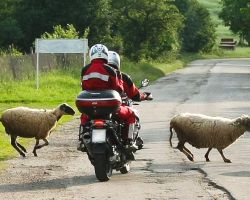 If you like freedom and the flexibility to enjoy travel under your own steam, then CLUTCH'S SELF-GUIDED TOURS are just for you. You can choose any of our guided tours and have the benefits of your accommodation pre-booked. CLUTCH can organize tours tailored to your requirements, plan routes in the most spectacular areas and highlight the most exciting roads. For a stress-free adventure you can request a pre-programmed GPS, and if you really want to 'go it alone' then you can take charge of guiding yourself and enjoy a new adventure. CLUTCH provides a full safety briefing and motorbike familiarization before you start your tour. Comprehensive tour maps are sent to you before the commencement of your tour, and a mobile phone for 24hour roadside assistance is available if required.

Deduct the price of our guided tours by 20% and then you have the price of the self-guided tour.

CLUTCH tours takes great pride in the service it offers. Please do not hesitate to contact CLUTCH for more information to discuss any aspect of our tour.